Thanks to its steel structure subsidiary OMS, the Group has two additional businesses: framing and locksmithing / metalwork. OMS works both on new projects and refurbishment.

Building

Framework

Steel structure
Thanks to its steel structure subsidiary OMS, the Group has two additional businesses: framing and locksmithing / metalwork. OMS works both on new projects and refurbishment. Through its OMS subsidiary, Legendre Construction has been building its expertise in two complementary steel construction businesses for over 30 years: framing and locksmithing/metalwork. OMS works both on new projects and refurbishment.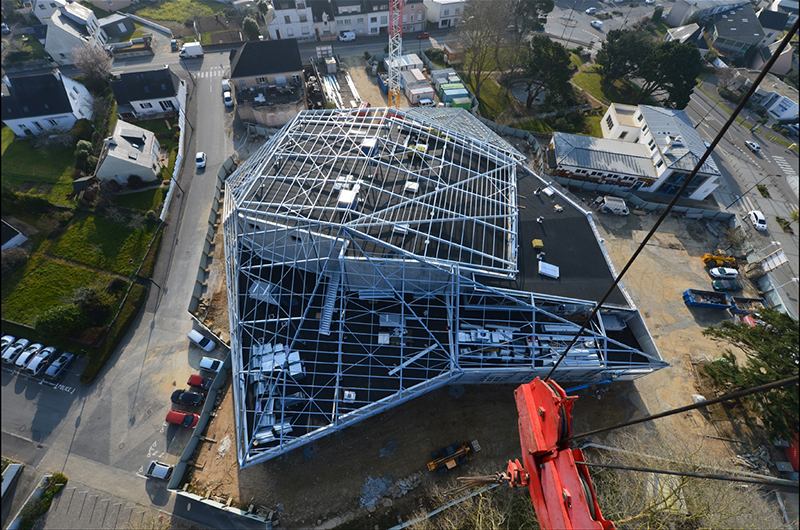 OMS: Complementary expertise in concrete and steel
Based in Rennes, this Legendre Group subsidiary has developed for almost 30 years, a new expertise in steel construction. OMS biggest strength? Being able to support its client every step of the way; on sites, from designing to project delivery. Thus, the company includes a whole range of necessary skills: an engineering department, a production firm, a paving team etc. Excellence, rigour, expectation, every employee shares the same values guiding towards project's success.
"The aim of the steel construction subsidiary is to bring an additional skill to the Legendre Group with the development of a new material: steel. OMS' technical expertise allows us to control mixed structures on all kinds of structures" explains Xavier Thirion, OMS's director. Steel offers several architectural possibilities. Its composition and workability allow us to build steel structures with different shapes and sizes. Modern and elegant at the same time, steel gives a designer look to the building."

Certified production quality
OMS is distinguishable by its production quality and feasible works variety. On its production site in the Rennes area, OMS uses very high performance tools and advanced technologies. As a subsidiary of Legendre Construction, OMS sets itself apart through its high production capacity and the guarantees provided by its certifications. It is (NF) EN 1090-1 certified for frameworking and was awarded the highest Qualibat qualification for metalwork locksmithing.
OMS is responsible for producing metalwork in its own 10,000 m2 workshop, this Legendre Construction subsidiary can therefore offer its services in lots of areas, whether housing, functional structures or industry, in both public and private markets… On site, our teams are able to work on very different projects such as housing, industrial building…  This factory was made to be responsive in order to rise quickly our production capacity and to answer to our requests.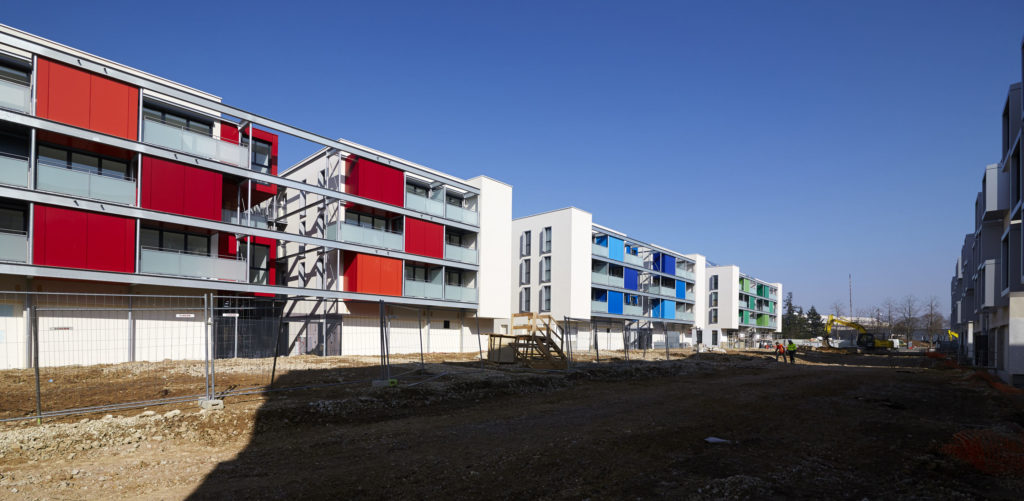 Structural steel frame
OMS's activity is divided in 2 distinct branches: framing and locksmithing. In steel framing, the company acts for the creation and conception of standards and complex structures, mixed structures (steel and concrete) and long reaches* (girder lattice)
Works in locksmithing and metalworking
For clients coming from different industries, OMS realises different types and model structures of locksmithing and metalwork.
Thanks to the shears, press brake and heated pain booth, OMS workers realise:
staircases (spiral, straight, wound)
railings
bridges and corridors
facade framework and sun-shading devices
metal decorative sets
Metal structures: French and international realisations
Well-known for its expertise and sense of service, the OMS company specialised in steel construction has several significant metalwork in France but also internationally.
Delivered in December 2015, the Lanester media library (Brittany) has an impressive metal framework weighing about 280 tonnes. Done by OMS's teams, this impressive metal dome makes this building recognizable among all, in an ultra-contemporary style.
In Nouvelle-Aquitaine (France), OMS built an indoor parking at the "Cité de Vin" in Bordeaux. For this public parking area, 2100m² of metal framework covered in natural anodised aluminium 180ml of bars railing.
OMS' knowhow extends also internationally with iconic projects such as Parker tower in London. This old office building was refurbished into a luxury residence of 57 premium apartments. Finished in 2018, this huge works implied the creation of 3 levels using 160 tonnes of metal framework for lifting mechanism and around 50 tonnes of secondary framework
Looking for metal construction experts ?